Beauty industry gets high-tech makeover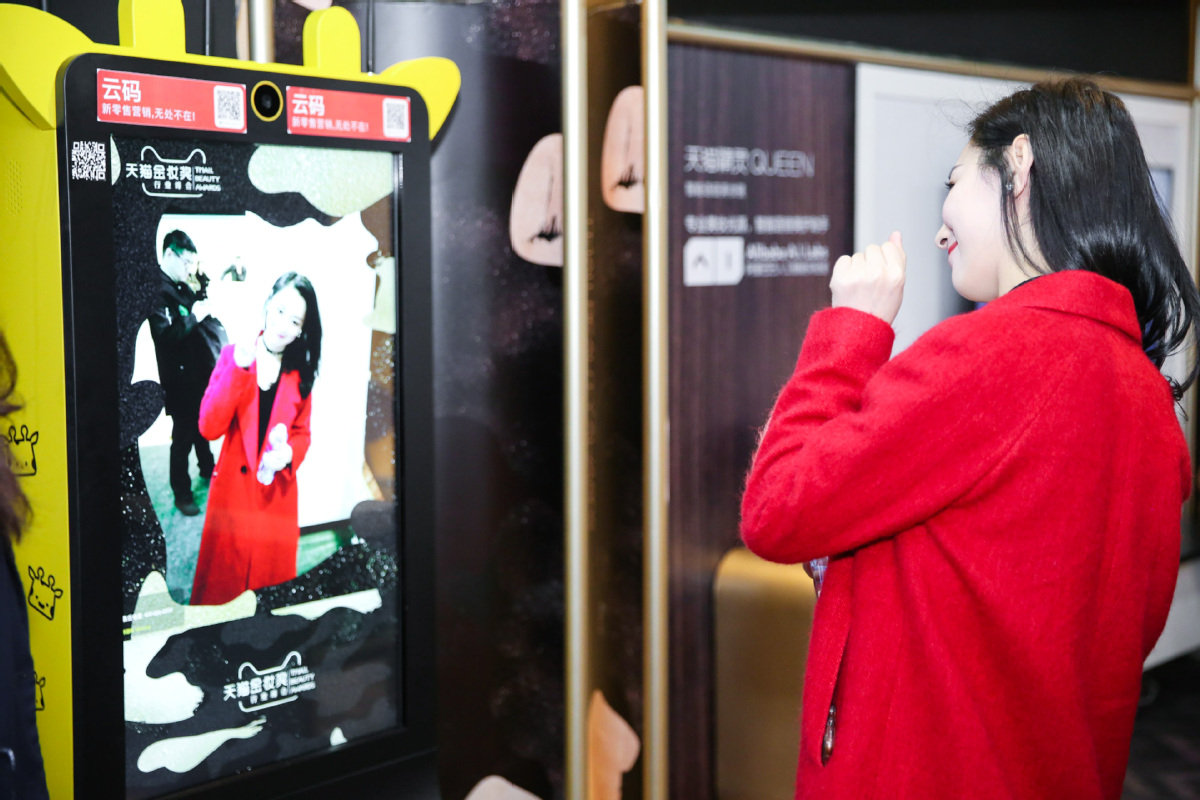 When it comes to skin care, there are two particular schools of thought that seem to be somewhat at odds with each other: One focuses on pure plant extracts, and the other on high-tech.
But with technology entering every aspect of Chinese lives, it is inevitably infiltrating the beauty industry. And the country's tech-savvy consumers are embracing it without hesitation.
According to Tmall, the country's largest business-to-consumer e-commerce site, smart beauty and skin care solutions have seen transaction volume double annually for three consecutive years, though no figures were disclosed.
"We've seen beauty brands swarming to follow the trend of using big data analysis, artificial intelligence and facial recognition to recommend and customize beauty products for consumers," said Chen Lijuan, head of Alibaba AI Lab, an in-house unit working on commercially convertible technologies.
Look into a mirror that provides expert skin care tips or try on makeup using an augmented-reality app. While these may sound like scenes from a sci-fi movie, the technology enabling such products is actually closer to reality than you may imagine.
South Korean beauty provider Innisfree is allowing customers to get a feel for the brand through such devices, allowing them to experiment with makeup virtually.
"We have introduced digital, entertainment and interactive technologies in our physical stores, merged online and offline membership and enhanced consumer insights through upgrading our stores," said Filipp Cai, general manager of Innisfree China.
Placing a high-precision camera on different parts of an individual's face, the skin analyzer assesses skin condition, shade and texture, and provides appropriate makeup recommendations.
"My dark skin isn't always the easiest to match, so I thought I would give it a go," said Xu Fan, a 27-year-old postgraduate student in Shanghai, who visited the brand's stand during last year's China International Import Expo, where she got to create a foundation color specifically for her skin tone.
The intelligent skin care solutions are raising much fanfare as the younger generation's digital natives embrace head-to-toe tech makeovers with comfort.
Such behavior has encouraged the likes of Philips to roll out electronic toothbrushes tailored to Chinese preferences.
"We distill customer insights based on online surveys and data analysis provided by Tmall," said Oliver Cheng, vice-president of Philips' personal care unit in China.
"We are able to take into account their needs and adjust dental care programs accordingly."
Following the toothbrush, Philips is planning to make a foray into smart skin care products by exploring customer data from Alibaba. This is a pre-emptive approach from the research and development phase to localize product design.
Online purchasing has become the locomotive pulling the overall growth of the skin care and beauty sectors. Last year, revenue generated from e-commerce channels in beauty and personal care jumped 37 percent and 36 percent, respectively, eclipsing the sectors' overall 14 percent and 7 percent growth, data from Kantar Worldpanel showed.
That also propelled brands to spend big in the country's digital space, as in the case of personal care giant Unilever. According to Ma Wen, vice-president of beauty and personal care at Unilever North Asia, the majority of the firm's ad expenditure in China is placed online, whereas budgets are largely allocated to traditional TV commercials in many mature markets.
"This definitely has to do with the macro environment. Chinese are undoubtedly most adaptive to, and willing to embrace, the digitalization wave. That's why we have confidence in our smart personal care offerings," Ma said.