Organ donation lifeline stronger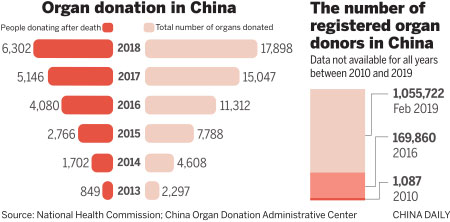 Rising registrations and better technology improve prospects of quicker availability
When Zhao Xueming, a middle school math teacher in Beijing, knew he had late-stage liver cancer in February last year, he felt despair.
"I was scared to the soul, and I thought about death every day," he said.
By then, Zhao, who was 36 at the time, had received various treatments at Beijing Tsinghua Changgung Hospital for four months. However, he believed he had some other liver disease, since his parents, in order to avoid frightening him, never told him the truth.
"The treatments didn't work well," he said. "At last my doctor decided to have a liver transplant surgery for me to save my life."
Zhao was lucky. He waited for just around two weeks for an available organ, which was distributed through a national computerized organ sharing system, and had an operation that lasted for more than 10 hours in March last year.
He later learned that the organ donor was a young person who died in a car accident in Hubei province, more than 1,000 kilometers away, but he doesn't know further details.
In March, a year after the surgery, Zhao enrolled to become an organ donor at an organ-donation promotional event held at Beijing Tsinghua Changgung Hospital.
"I am a beneficiary of organ donation, and know clearly what it feels like to be a patient in need of transplant surgery and eagerly waiting for an organ, since such organs are scarce," he said. "I want to do the same to save others."
With the number of registered organ donors increasing rapidly in China, it is expected that more patients with terminal illness in need of organ transplants will be fortunate, like Zhao, and not have to wait very long.
By the end of February, the number of registered organ donors in China exceeded 1.05 million, compared with 1,087 in 2010, the year China began to pilot organ donations, according to the China Organ Donation Administrative Center. More than 64,000 organs have been donated since then, the center added.
The turning point came in 2015, when China banned the use of organs harvested from executed prisoners, which made voluntary donations the only legitimate source of organs. Since then, the number of organ donations and the number of organ donors have continued to increase rapidly, according to data from health authorities.
In 2016, the number of newly registered organ donors exceeded 104,000 - more than three times the number for 2015, according to the center.
Last year, 6,302 people donated organs after death in China, an increase of 22 percent compared with 2017. About 20,200 transplant surgeries were completed last year, an increase of 21 percent compared with 2017, ranking the second in the world after the United States, according to the National Health Commission.
On average, 6.8 of every 1 million people donated organs after death or while alive for their relatives in China last year, a record high, according to the China National Organ Donation and Transplantation Committee.
Guo Yanhong, deputy chief for medical administration and supervision at the National Health Commission, said that with an increasing number of organ transplant surgeries performed, Chinese physicians are also making progress in organ transplant technologies, and a number of world-class centers in transplant surgeries, covering major organs such as livers, kidneys, hearts and lungs, have been established in China.
With an increasing number of donations and surgeries performed every year, authorities have also established a computerized supervision system that covers the entire sector, including organ donation, retrieval, distribution and transplant, so they are under the supervision of health authorities, she said.
Despite the increase in the number of donors, a shortage of organs is still severe in China, considering the number of patients in need of transplant surgeries.
Every year about 300,000 patients with terminal diseases need transplants in China, but only about 20,000 surgeries can be done, according to Huang Jiefu, former-vice-minister of health and now chairman of the China National Organ Donation and Transplantation Committee.
Chen Xinguo, director of the organ transplant center at Armed Police Force General Hospital, said that since people's traditional beliefs are still a major obstacle to organ donations, more education is required.
Zhao, the middle school teacher in Beijing, said that although he donated organs, many of his friends would not register as donors, since the traditional belief still exists that the body should be kept intact after death.
"I think more education and publicity should be made at colleges to promote the awareness of students, who accept the idea more easily," he said.
Chen, the transplant center director, said more efforts should be made to ensure the quality of harvested organs, especially those harvested at smaller hospitals or clinics.
"No doctor would dare to use substandard organs, since that may cost lives," he said. "We hope all organs distributed are equally up to standard."
Huang, chairman of the donation and transplantation committee, said there are 182 hospitals certified in organ transplant surgeries around the country.
Fan Jing, an official at the National Health Commission, said China will revise its regulation to improve oversight of organ donations and transplants to ensure safety and quality of services.
Speaking at a conference on organ donation and transplantation held in February in Wuhan, Hubei province, she said the revised rules will specify the legal responsibilities of various parties in the sector, including medical institutions, organ procurement organizations and medical staff. Violators of laws or regulations will more effectively be held accountable, she added.