Pension pressure up as less paid in, more paid out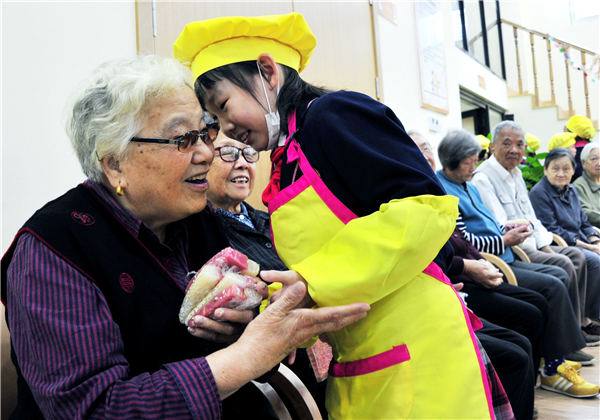 Editor's note: The authorities have increased pensions by 5 percent. How is this being funded since the pension contributions that employers have to pay for their employees have been reduced at the same time? A post published on the official WeChat account of Qin Shuo, a financial commentator, says:
The authorities have raised basic pensions for 15 consecutive years, and the latest rise is expected to benefit 118 million pensioners nationwide. However, the declining growth rate of pension funds in recent years has also caused some to wonder whether the country will be able to raise pensions in the years ahead.
Although pensions have kept rising, the pension replacement rate-the ratio of a pension to a person's preretirement income-has been on a downward trend. According to the standard applied by the International Labor Organization in 1994, if the rate falls below the alert level of 55 percent, the living standard of retirees will be seriously affected. International experiences also show that it is only when the pension replacement rate of retirees exceeds 70 percent that they can basically maintain their previous living standard. The rate in China has declined from 87 percent in 1998 to about 45 percent now.
The reason why pensions have kept rising but the pension replacement rate has kept declining is that employees' wages have grown at a faster rate than pensions over the past several years. And more and more local governments are finding it difficult to make ends meet in terms of pension payments.
Pension payment sustainability is not a problem confronting China alone, every aging society is facing it. But how to resolve this problem? It is a common international practice to raise the retirement age. From 2004 to 2017, the average retirement age in Denmark, one of the "happiest countries" in the world, was raised from 62 to 65 years old, and it is expected to be further raised to 68 by 2030. The United Kingdom, Germany, France, Belgium, the Netherlands and Ireland have all proposed raising the retirement age to about 67 years by around 2030.
Japan, which implemented a thorough and considerate reform of its pension system in 2004 to deal with the largest population of pensioners in the world, can offer China some lessons. It shows that even if we want to delay retirement, we must clearly know why it is necessary to do so, and how long on average people are expected to live after retirement.
Most Viewed in 24 Hours
China Views