Trump backs off on healthcare agenda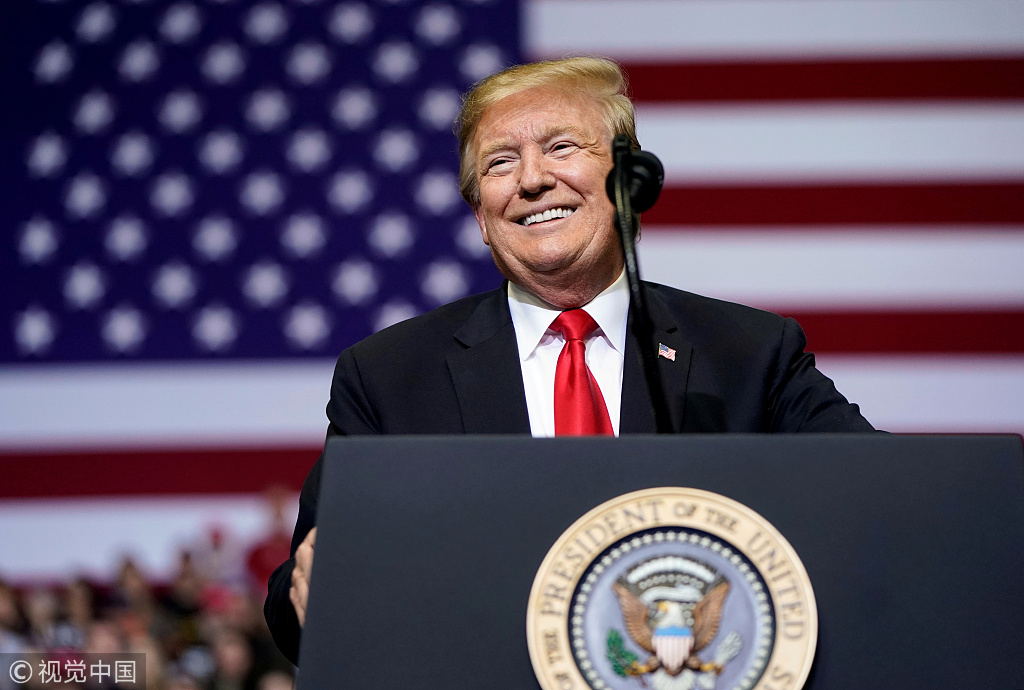 US President Donald Trump said last week that Republicans would be the new "party of healthcare" and would scrap the Affordable Care Act (ACA) that covers 20 million Americans and replace it with a better one.
He called on Republicans to produce a new plan. On Monday, Trump reiterated that Republicans would do it, but not now — it would come after the 2020 elections, he said.
"The Republicans are developing a really great HealthCare plan with far lower premiums (cost) & deductibles than ObamaCare. In other words it will be far less expensive & much more usable than Obamacare," Trump wrote in a tweet late Monday night. "Vote will be taken right after the Election when Republicans hold the Senate & win back the House."
While Trump backed off pushing Congress to take up healthcare now, a survey released on Tuesday by Gallup and the nonprofit West Health showed that Americans borrowed an estimated $88 billion over the last year to pay for healthcare.
The nationwide survey of 3,537 adults also found that 38 million, or 1 in 4 people, skipped a medical procedure, test or evaluation that was recommended by a physician for a "somewhat" or "very serious" medical condition because they didn't have enough money to pay for it.
The survey also showed that more than two-thirds of Republicans and Democrats said they are "not at all confident" that elected officials will be able to work together to reduce healthcare costs.
Last week, Trump stunned and puzzled Republican lawmakers by putting the spotlight on repealing and replacing the current healthcare plan known as Obamacare.
He directed the Justice Department to intervene in a federal court case in Texas seeking to eliminate the ACA in its entirety on constitutional grounds. Then he told Senate Republicans that they should be the "party of healthcare" and asked for assistance in writing a new bill, but he got none.
Last week, Senate Finance Committee Chairman Chuck Grassley of Iowa, whose committee would be central to producing new healthcare legislation, said there were no plans for new legislation.
Senate Majority Leader Mitch McConnell of Kentucky said he would wait to see what the White House produced in consultation with leaders of the Democratic-controlled House.
Realizing that Democrats won control of the House by making healthcare their No 1 issue, other Republicans — especially those up for re-election in 2020 — also backed off.
On Tuesday, Democrats seized on Trump's punting of the issue until after the elections.
"Last night the president tweeted that they will come up with their plan in 2021," Senator Chuck Schumer of New York, the Democratic leader, said at a rally in front of the Supreme Court. "Translation: they have no healthcare plan. It's the same old song they've been singing. They're for repeal. They have no replace."
House Speaker Nancy Pelosi of California said that the House would vote this week on a resolution urging the Justice Department to reverse its position and defend the 2010 healthcare law in court.
The 5th US Circuit Court of Appeals is expected to review a December ruling by a US district judge in Fort Worth, Texas, that declared the Affordable Care Act unconstitutional.
On Monday, two Republican state attorneys general in Ohio and Montana urged the appeals court to uphold Obamacare, saying that striking it down would be disruptive for patients, doctors, insurers and employers.
They were joined with briefs filed by dozens of patient and healthcare industry groups, including the American Medical Association, American Hospital Association, American Cancer Society and AARP, a seniors advocacy group.